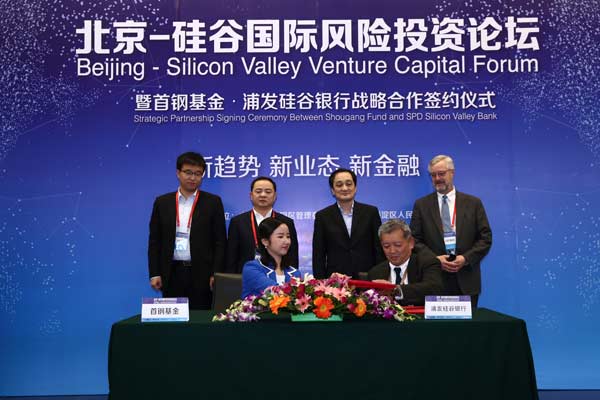 Expanded financial services coming to innovation companies
Shougang Fund signed a strategic partnership agreement with SPD Silicon Valley Bank in Beijing, Jan 8, 2017. [Photo provided to chinadaily.com.cn]
Shougang Fund, a subsidiary of China's major steel maker Shougang Group, signed a strategic partnership agreement with SPD Silicon Valley Bank, or SSVB on Sunday, to offer expanded financial services for more innovation companies.
The two sides have set up an innovation investment fund in Zhongguancun, Beijing's "Silicon Valley". They will select suitable innovation startups and then provide financial support through the investment and loan linkage mechanism.
By working together, Shougang Fund will make equity investments and the SSVB will extend loans. As equity investment and credit loans are both risky, the two are expected to continue the program through equity warrants.
Zhao Tianyang, president of Shougang Fund, said the company aims to provide more kinds of financial services instead of simply making equity investments.
"We expect to spend five years, 10 years or even a longer time to build a better entrepreneurship and venture capital system, catering to startups' various needs during their different development periods," Zhao said.
Shougang Fund said the two sides will invest in innovation startups mainly from four areas, including enterprise services, life sciences and healthcare, artificial intelligence related cutting-edge technologies and new materials.
The two organizations will bring more resources from both sides. During the process, they will also promote mergers and acquisitions and industrial integration.
David Jones, President of SSVB, said China is important to innovation economy as a developer of technology and a large market for the rest of the world.
"We aim to be the most sought-after bank in China for innovators, enterprises and investors," he said. "We believe by leveraging the strengths of both sides, we will bring more unique values to the China innovation ecosystem. With our upcoming Beijing branch of SSVB, we also believe we will be able to serve more tech and innovation companies from Beijing."
SSVB, a joint venture bank between Shanghai Pudong Development Bank Co Ltd and US-based Silicon Valley Bank, was formed in 2012 and is China's first commercial bank dedicated to serving the local innovation community.
"In terms of the innovation, project and operation platform, Beijing and Silicon Valley build a bridge of collaboration," said Liu Yinchun, deputy secretary general of Beijing Municipal People's Government, "I look forward to deep cooperation between Beijing and more leading countries and regions in the future."
China Daily